Elevating the MedSpa Experience By Interior Design
JOIN US FOR MITRA'S BEST PRACTICES W/ MEDSPA DESIGN 
REGISTER NOW TO WATCH!
Compare
Report Abuse
Topic:
ELEVATE PATIENT EXPERIENCE THROUGH INTERIOR DESIGN
Learning Objective/s:
How to Solve the Top Patient Experience Complaints through Interior Design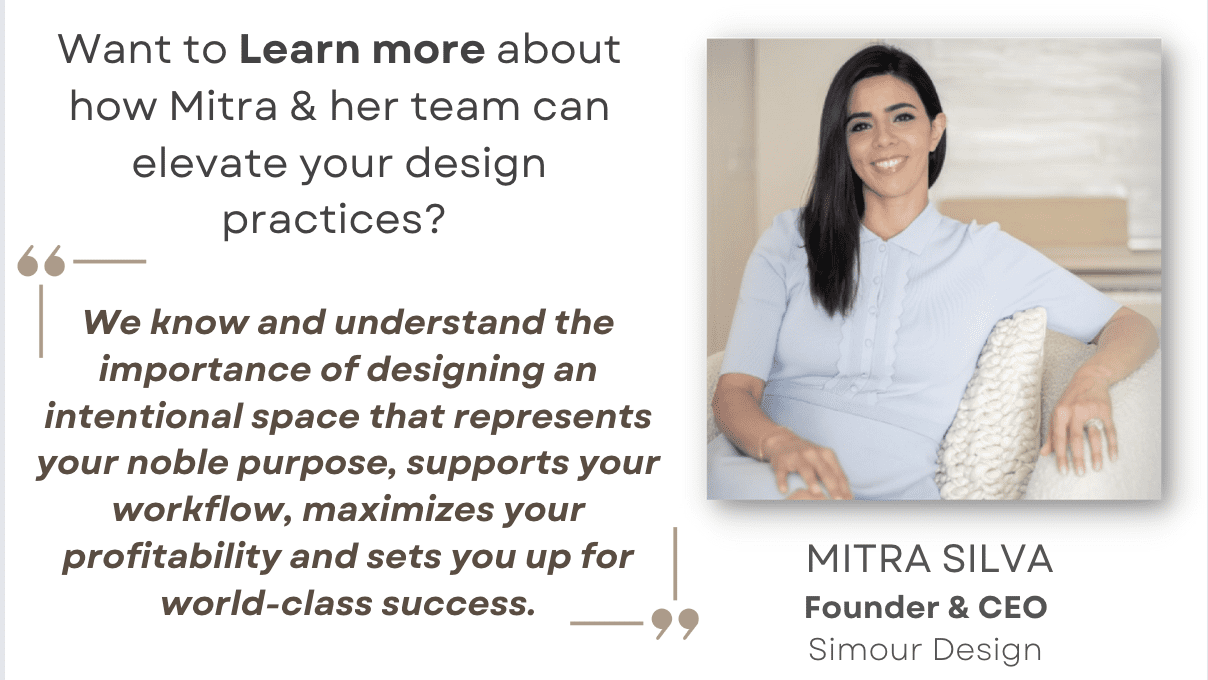 Speaker Bio:
Mitra Silva




Founder and CEO, Simour Design
Mitra Silva is the Founder and CEO of Simour Design, a medical interior design firm. She leads a specialized team of designers to serve clients by creating intentional and transformational medical spaces. Simour Design specializes in medspas, plastic surgery centers, and all areas of the medical field, designing for clients from Beverly Hills to New York City, Washington DC to Chicago, and everywhere in between. She was named by Ariana Huffington's Thrive Global as an accomplished C-Suite executive and was invited as a Speaker for The Medical Spa Show 2021 and 2022. She was also a Guest Speaker on the Medical Spa Insider Podcast and was featured on
EverTalkTV.
Simour Design Social Media Handles:
https://www.facebook.com/simourdesign/
https://instagram.com/simourdesign/
https://www.linkedin.com/company/simour-design
Twitter – @SimourDesign
Website:
www.simourdesign.com
No product has been found!